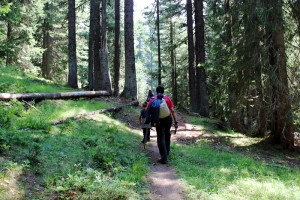 The region around Plav-Gusinje is a paradise for hikers. Surrounded by the Prokletije Mountain Range there are infinite possibilities to enjoy the countryside. As the name suggests the region is divided into two areas. Gusinje provides difficult mountain passes and peaks but also has wonderful valleys, waterfalls and springs. Around Gusinje there are the highest mountains of Montenegro, the Zla Kolata and also in Albania Jezerca. Here mountain walkers have alpine conditions to the steep craggy mountain peaks.
In the area around Plav the pathways are easier and more relaxed. The alpine landscape around Babino Polje, Hrid and Bogicevica, on the eastern side of the national park of Prokletije, invite you to hike through wide meadows, pastures and forests. Also around Plav there are peaks over 2000m such as Starac (2462m), Hridski Krs (2358m) or the Krs Bogicevica ( 2374m). When you cross the three border triangle and discover the incomparable lake of Hrid at 1900m, absolute peace awaits you .
For forest-lovers there are many forests to hike through and enjoy kilometers of pathways through untouched woodlands. Here you can find a sea of wild strawberries, blueberries, raspberries, herbs and plants all just waiting to be found by you. Begin your exploring from the Triangle Woodhouse, that lies directly on the edge of the forest and feel the healing power of the trees. The German Society for International Cooperation (GIZ) and the local mountain clubs have started a large project to mark the pathways around Plav-Gusinje. Last but not least we can inform you about the famous Peaks of the Balkans Trail which takes a fortnight to hike and goes through three countries. It won a prize in 2013 for "Tourism for Tomorrow".