Ali Pashas Springs (Ali Pashini Izvori)
Mystical Montenegro – see your reflection in the crystal clear Ali Pasha Springs.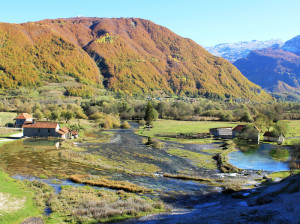 The well known and fascinating Ali Pasha Springs are in the region of Gusinje and lie about 25km west of the Triangle Woodhouse.
Surrounded by luscious green pastures,that are reflected in the water, you have the feeling that you are in a magical – mysterious place. The springs come out of the rocks. Large amounts of clear water, that is drinkable, join together to flow to the Plavsko jerezo.
Every year,on August 2nd there is a big festival that tourists are welcome to visit.
---
Skakavica eye (Syri i Kalter)
An especially beautiful water spring is to be found near to Gusinje at the foot of the Prokletije near to the village of Vuthaj.
This spring is hidden in a valley surrounded by thick forest and the stream of crystal clear blue-green water is fascinating.
This unusual spring has its source at 1010mm above sea level.
Its water is colder than the snow in winter. It flows the about 2 km further downstream over the 30 m high waterfall Grlje. Although the echo could be heard from far away, the hidden waterfall itself was only discovered in 1982.
More Pictures from Oko Skakavice (Syri i Kalter)